If you are reading this blog, you must have researched a bit about this field and you may know a little bit of HTML, CSS and JavaScript. Here, I will talk about the meaning of "Web Development" to me and how you can improve and enhance your web developing skills.
My philosophy of a Web Developer
If you ask me who is a good web developer, I will say that a person who has an advance or intermediate skills in both "Front End Development" and "Back End Development", if you have no idea what those terms mean, please let me explain with this very accurate graphics.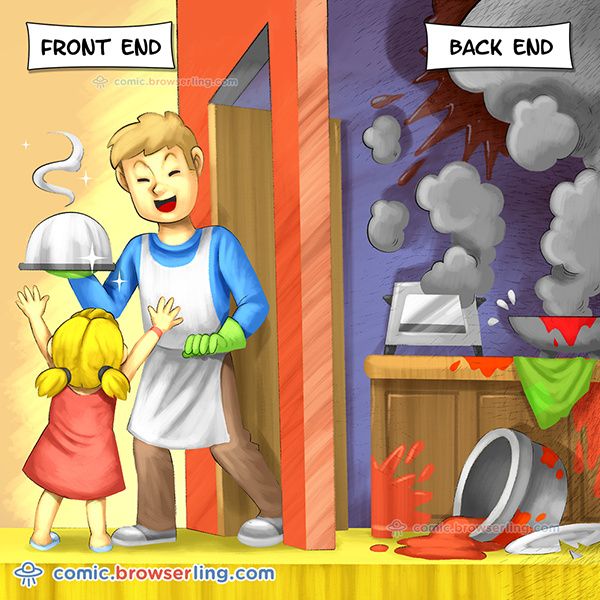 As you can see in this comic, Front end is the thing you as a user can see on a website. And Backend is the mess that a programmer creates in order to build a great front end. Also, notice at the beginning of this paragraph, I have used "skill" and not "knowledge". There is a big difference between having a skill and having knowledge about something. For example, I have very good knowledge on how to fly an aircraft (from many flight simulator game) but if you tell me to fly an actual plane, I'll probably crash it. By "skill", I mean how much practice you have done that thing.
6 ways to level up your Web Dev game
If you are a beginner in this field and just figuring out what things to be done, here are some points that can greatly improve your web dev skills.
Let's state the obvious first, You need to have very good knowledge of HTML, CSS, and JavaScript: HTML is easy, you just have to memorize a bunch of tags and you're good to go. But that is not the case with CSS and JavaScript, these two topics are so huge and have endless possibilities that you can't possibly become a master of CSS and JavaScript just by memorising things and not practising enough. You need a ton of practice to become proficient in HTML, CSS, and JavaScript and you can use these in literally more than a billion ways. One way to practice HTML, CSS, and JavaScript is by copying other websites, take any website you like, like Facebook and copy it (only the frontend part not the database and stuff).

Learn any backend language: You are not a "Web Developer" unless you have no skill in backend development. Learn any backend language (or Server Side language) some of the famous ones are Python's Framework Django or Flask, PHP, etc. Also, you need to learn Database Management and SQL to fully become a backend developer.

Don't fix your eyes at the output rather think about the process: This is the most important part that most people who are starting WebD ignore. having a great output is good, but if the process that you followed to get that output is crappy then it will be really hard for you as a programmer to find bugs or scale the website in the future. But if you are confident that your code has no bug, then you are most certainly wrong, No code is perfect.

Make your project first on paper and then on a computer: It is always better to draw your future steps and make a detailed chart of your workflow (how you are planning to make that project). This point is also true for any creative work you do, expressing your ideas using pen and paper rather than a note-taking app or a computer helps our creative mind to work more and help you to find an easier and more efficient way to do things. There are literally dozens of advantages to working on pen and paper first, that deserves its own blog post.

Be open to suggestions and critics are your best friends: It is extremely important that you listen to all the critical comments and improve your work based on them. This way you can assess your skills and make decisions based on those critics. You have to ask your friends and family to review your work and make changes if necessary.

Keep your eyes open and always seek for inspirations: The world is filled with weird but amazing things, observe these little things and try to apply that on your design. Like for example, you come across a poster for an ad campaign and you liked the way that is designed, try to incorporate that in your design. The point you have to note is that do not copy the design as it as rather use your imagination and merge that design with your unique ideas. This might sound stupid but pay close attention to the dreams you are having, you can get some great ideas and inspirations from those dreams.
Few resources for some inspiration
Conclusion
Web Development like any other skill cannot be learned in one day or even few months, you need a constant practice and with time you will reach the top level of web dev game and maybe one day your website will be featured in Awwwards.com.
P.S. I am not sponsored by any of the brands mentioned in this blog, I use those resources myself and wanted to share.